TOP MESSAGE~Aim to become a 100-year company~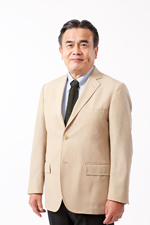 President & CEO
Noriyuki Kobayashi
Since its foundation in 1946, the SANYEI Group has continuously maintained an approach to business which involves providing products that are close to people's lives, and has developed a business model that pursues synergetic effects between the following two businesses in order to realize the above management vision, having set our minds to becoming a 100-year company.

One is the OEM business, which provides an integrated approach to client branded products incorporating manufacturing, quality management, and logistics, and the other is the Brand business, which leverages the overseas business knowledge and experience cultivated by the OEM business to sell our own and leading overseas brands.

As for the business environment surrounding the SANYEI Group, the pace of growth in the Chinese economy declined owing to the impact of trade friction with the U.S., while in North America, retailers are facing the prospect of closure as a result of the sweeping domination of e-commerce, such as Amazon. In addition, economies in Europe are also experiencing a marked deceleration, while in the Japanese economy, continued polarization with the penetration of deflationary pricingis having a major impact on consumption trends. This is having a considerable impact on the SANYEI Group's business as well.

In this environment, the Group faced an immense struggle in fiscal year 2018, with profits decreasing significantly year on year. The causes are clear – in the OEM business, we took a decision mid-way through the fiscal year to review our North American business with a focus on profitability, while profit margins are declining due to loss of orders in Europe and intensifying competition. Meanwhile, in the Brand business, earnings were weighed down due to a significant impact of an increase in the fixed cost ratio in the retail business. Consequently, our business results diverged significantly from our initial targets, and as the president I apologize to our stakeholders for the concern this has caused.

To recover from this situation, and to turn it into an opportunity for change, we aim to more effectively utilize the Company's assets, or in other words, we must place greater emphasis on capital efficiency in our management. Specifically, in the OEM business, we will further enhance our expertise as a trading company handling lifestyle-related goods, and shift our current style of business to one that places more focus on business investment, and in so doing we will work toward heightening trust afforded to us by our business partners, solidifying our commercial rights and diversifying sources of profit. Meanwhile, in our Brand business, we will build our brand portfolio with the concept of stringently selecting and handling only products that are outstanding in terms of substance. In both businesses, we look to expand our activity domains through M&A as we strive to increase corporate value going forward.

We are in full-swing with these initiatives, and expect that further recovery in our business results will take a little more time. However, as the Company enters the 73rd year since its foundation, we are looking ahead to our centennial by aiming to transform the business model to one that can secure earnings over the long term and to increase corporate value. We would like to express our gratitude to our stakeholders for their understanding of the path forward described above. Your continued support would be greatly appreciated.