Strategy
With the theme of "Health and Environment," Sanyei contributes to the realization of lifestyles and social lives that are comfortable and dream-inspiring by designing and developing lifestyle-related goods of superior quality and delivering them to consumers.
TOP MESSAGE~Aim to become a 100-year company~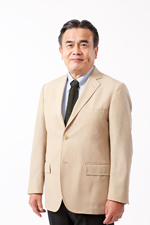 President & CEO
Noriyuki Kobayashi
Based on the management vision noted on the above, we have been handling products that are close to people's lives since our foundation in 1946. Thanks to the support of our customers and stakeholders, 2016 marks our 70th anniversary. To continue achieving stable growth and establish a strong business foundation able to cope with rapid changes in the business environment in accordance with our aim to become a 100-year company, we have formulated the following medium- to long-term policies.
Medium- and long-term policies
1.

Achieve net sales of ¥50.0 billion in a timely manner
We are targeting to build business with net sales of ¥10.0 billion or more in each of our five businesses segments for overall net sales of ¥50.0 billion.

2.

Secure stable profit in the brand business with the aim of further business expansion in the OEM business
We aim to change the ratio of sales from the current ratio of 75% from the OEM business and 25% from the Brand business by gradually increasing the Brand business ratio to about 40% in order to secure stable profits, and to grow the OEM business by strengthening price competitiveness through the stable profitability.

3.

Establish a business foundation resistant to changes in the environment
We aim to make our business structure more resistant to changes in the environment in Japan and overseas markets and foreign exchange fluctuations, and achieve growth in sales and stable profits. We will make the following efforts toward these targets:

1.

Improve our business capabilities by strengthening product development capabilities, price competitiveness and procurement capabilities.

2.

Reduce procurement risk with the optimal mix of product procurement regions by vigorously promoting business with manufacturers not only in China but also in Southeast Asia.

3.

Increase the percentage of overseas business in net sales.
Furthermore, as part of our efforts to strengthen corporate governance, we established the Nominating and Compensation Committee, as a voluntary advisory body to the board of directors in April 2016.

By further strengthening our governance system, we aim to achieve sustainable growth and to increase our corporate value over the medium- to long-term. We also intend to move forward with our plans to develop a stronger business foundation by promoting further initiatives.
We would like to express our gratitude to our stakeholders for their understanding of our strategy and our chosen path forward.
Your continued support would be greatly appreciated.