TOP MESSAGE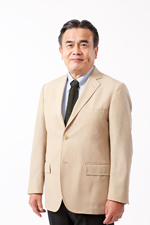 President & COO
Masaki Mizukoshi
June 29, 2022

Dear All,

I am Masaki Mizukoshi, assuming the position of President & COO of Sanyei Corporation from January 1, 2022.
We would like to thank all of our stakeholders for your continued support of the Sanyei group, extend our deepest sympathies to those patients infected with the COVID-19, and express our sincere gratitude to all the people who are working hard to prevent the spread of the pandemic.

Looking back at the fiscal year ended March 31, 2022, unfortunately, the Group recorded deficits for two consecutive terms in a roll. We attribute this result to our inability to respond in part to the speed of environmental change caused by the COVID-19 pandemic. Although the some business segments improved sales due to "stay-at-home" demand, the other business segment resulted in lower sales caused by the impact of regulations under the COVID-19, which includes the State of Emergency Declarations, and the failure to read demand forecasts. Also, global macroeconomic factors such as rising raw material and resource prices, transportation and logistics prices, and fuel prices, as well as exchange rate fluctuations due to the weak yen, also had a significant impact on the overall profit margin.
We have carefully arranged products that are closely related to people's lives and have built a business portfolio in multiple categories of household goods to achieve balance as a company. The Corona disaster resulted in losses for the second year in a row, indicating the urgent need to analyze, replace, and strengthen the current portfolio.

To overcome this situation, reviewing unprofitable businesses is the most important task, and we will review our business inventory and cost structure in FY2022 to speedily improve our business. Furthermore, for businesses that cannot be expected to recover, we will promote fundamental structural reforms through business restructuring, including the bold consolidation and elimination of businesses.

It is also necessary to clarify the areas to focus on in the mid- to long-term. After the two years of experiencing COVID-19 pandemic, we have identified the following targets to be addressed as the growth drivers.
(1) Further challenges in the E-Commerce business
(2) Further expansion and development of global business by utilizing overseas subsidiaries
(3) Importance of supply chain control
(4) Expansion of product lineup through development of new brands
(5) Sustainability initiatives

We focus on these five growth drivers to survive in a challenging environment, although this macro environment is hardly expected to improve any time soon.
Furthermore, in pursuing these initiatives, we believe that we need a common slogan to motivate the entire company to work together to achieve our goals. We also reaffirmed that the Company's goal is to provide "superior quality products" in the field of lifestyle goods, in other words, "Enhancing health and enriching lives through lifestyle goods" is our mission.

We recognize that each one of us must enhance our curiosity for lifestyle products and further develop our knowledge in our areas of expertise. Also, we expect that by approaching each job and task with care and sincerity, we can build a resilient constitution that can respond to macro changes and achieve corporate sustainability as a result.
We promise that our group will continue to build up steadily from small actions in accordance with corporate philosophy of "Zuien," which has been in place since our founding. With the theme of "enhancing health and enriching lives through lifestyle goods," we seek to make full use of the imagination and creativity of each and every one of us to carry out our business activities.

To achieve this goal, we have formulated the following five phrases as our Code of Business Conduct.


Code of Business Conduct
1.

We do small things integrity.

2.

We value the spirit of mutual help.

3.

We never forget to be grateful.

4.

Be quick to seize potential opportunities.

5.

Think future and act for our earth.
We sincerely appreciate all of our stakeholders for your continued support and encouragement of the Sanyei Group.
Yours Sincerely,
President & COO
MASAKI MIZUKOSHI