Signed Agreement with e.dye Ltd. for Exclusive Distribution
"Our EARTH Project" has concluded an exclusive distribution agreement in Japan with e.dye Ltd., focusing on the technology that reduces the amount of water and chemicals used in the dyeing process and CO2 emissions. "The Water Color System®" used by e.dye doesn't require a large amount of water since it is dyed during the yarn-spinning process. Also, since the pigments are kneaded into the fiber itself, it offers various advantages over conventional dyeing, such as superior lightfastness and other color stability.
Furthermore, we are also providing e.dye fabrics in stock for sale to take advantage of the characteristics of materials through sustainable manufacturing.
For more about Our EARTH Project, click here.
What is the Waterless Color System® ?
1. A proprietary digital color management system with more than 5,000 coloring recipes.
2. It is possible to accommodate customers' requests flexibly since Sanyei manage stocks and able to find from the minimum order lots.
3. Compared to traditional piece dyeing, this system saves 85% water, reduces chemicals by 90% (all chemicals used by e.dye Ltd are Oeko Tex-100 compliant), and reduces CO2 emissions by 12%.
4. Since applying for Sweden's EPD (Environmental Product Declaration) certification system, it is able to provide a system to visualize numerically the degree of environmental impact reduction for each product.
If you have any quaries, please feel free to get contact with us.
Collaborative Activities with Students
Held a Food Waste Dyeing Workshop with "Lápiz Private ", a student organization from Ritsumeikan University
In November, 2021, we have invited the representative of the student organization from Ristumeikan University Lápiz Private to hold a workshop of food loss and waste dyeing and vegetable painting.
The purpose of this workshop was to bring us to think about the environmental issues more closely in our daily lives with "Lápiz Private," which is engaged in various activities to aim for the reduction of food loss, mainly by dyeing vegetables and more.

In this workshop, items from Pure Waste handled by Our EARTH Project were used.
In Our EARTH Project, we are willing to support these student activities.
We are keeping close contact with Lápiz Private and will continue to collaborate with them in their work to implement activities to think more about the SDGs in our lives.

About Lápiz Private : Lápiz Private is a student organization from Ristumeikan University (Kyoto) running by over twenty students from high school and university under the concept of "Hentekorin Oyasai (i.e.:strange vegitables) " x "Fashionable" x "Sustainable".
Since they want consumers to perceive the SDGs more familiarly as "Jibungoto (i.e.:personal affair)," Lápiz Private aim to provide opportunities to think about social issues in daily life using "vegetables" as a tool through their "vegetable paints" activities.
FSC (Forest Stewardship Counsil ®)Certification
In 2021, as part of our environmental conservation efforts, we acquired CoC certification, one of the types of FSC certification, at our subsidiary in Vietnam, Triace Vietnam Company Limited. Under our management vision of "Health and Environment," we will continue to promote 'monozukuri (i.e.: manufacturing)' with consideration for the environment and nature protection.
About the FSC (Forest Stewardship Counsil ®)Certification

The FSC certification is the international forest certification system to aim to save forests with responsibility under the perspectives of environmentally, socially, and economically.
About the CoC (Chain of Custody)Certification
This certification covers the process of manufacturing and distributing FSC-certified wooden materials until it reaches the trading company. Through certified lumber, we guarantee that the process and distribution of the lumber meet the standards set by FSC ®. We acquired this certification in response to the growing awareness of environmental conservation in Europe and positive perspectives with a view to future business.
BIRKENSTOCK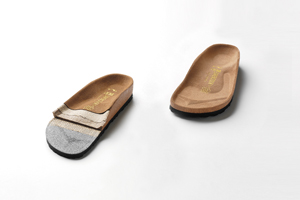 BIRKENSTOCK is a German shoe brand featuring original footbeds (insoles) that support an ideal way of walking and fashionable footwear.

The original footbeds are made from natural materials, cork, latex (natural rubber), and reuse of wood offcuts. These perfect combination of materials will bring you a product that is truly considerate of your body and earth-friendly with its durability, safety, and comfort.

◇Cork
Cork is a sustainable natural material that can be used without deforestation, as it can be regrown in about 10 years after the bark is harvested.
BIRKENSTOCK is also working on reusing the wood scraps from wine corks after taking them out for use as material for footbeds.

◇Latex (natural rubber)
Latex is made from the sap of rubber trees and, like cork, is a sustainable natural material. It is used to make for highly elastic footbeds.
Sanyei Kotobuki Building
Environment-friendly new head office building
The Sanyei Kotobuki Building that serves as the head office for the Sanyei Group (completed in April 2012) gives consideration to the environment as follows.
Achieves energy reductions through the latest energy-saving facilities including lighting and air conditioning
Maximum greening efforts made around the building and on the rooftop in consideration of environmental improvements
Inside the building, in addition to wall materials, tables, and chairs made of thinned wood, some floor materials use radiata pine grown under a forest resource recycling supply system
In addition, 20,000 liters of water for fire protection is always available for fire emergencies in the community.